Home
About Michael Woroniecki
(Before I begin I want to tell you to check out a music, my son David and I write and produce. It's on ITUNES titled Legacy of Love. If it's not yet there it'll be there by November 21st.)
… I want to tell you, hey man, I hear you. I really do. Because I too have the pain. It's awkward to talk about cuz everyone says "Weakness ain't cool. Be strong". But they are so wrong. When we're all alone, this pain, it don't go away. The truth is, at times, everyone wants to cry inside.  Just because you deny it don't make it untrue. 
I  learned how to hide my pain and project myself as "cool and macho" starting as a senior in High School. Yet a crippled heart  perpetuated my fear of failure and rejection.  I think,  anyone who looked closely, could have seen it in my soul. I felt broken, but didn't know why.    
From childhood I remember thinking that I didn't even know what I was searching for.  I kept hoping for some kind of special thing to happen to make me whole. But, year after year, I found myself on a path that went nowhere. I had a brief period of  "success" when I won All-City honors as a high school fullback. This then led to a football scholarship to CMU. It brought me "friends" and identity but not the answer I sought. 
Never could I have guessed that I was searching for SOMEONE; not a best friend, adventure, job or a dream girl, but for my Creator; my heavenly Father. Never could I have imagined that the strange pain within me was due to some dude who lived some 10, 000 years ago. Sounds like a sci-fi movie plot.
As a strict Roman Catholic my family said the rosary every single day on our knees. My dad would then read, what seemed to me,  the ancient fable involving the first people, Adam and Eve, and how they passed onto me, a sinful human nature. Back then, I had the clear impression that I could, and would, never be able to accomplish what was supposedly required to make myself "better"; obeying 10 very demanding commandments.
But my inner torment ultimately drove me into a personal search of the Scriptures. My mom left a New Testament at the bottom of the box of one of her care-package of cookies. I read and I began to understand. Three little letters compose one gigantic revelation. Sin is the greatest real hidden monster in history. It slays men by the trillions all because of ignorance.
The Father's Personal response to my quest came my second year in college. It is a long glorious story but sufficient to say it came down to the revelation of the living Jesus. He took away the pain of my sin and guilt. While sitting in, of all places, a football stadium during a Charismatic Catholic conference at the University of Notre Dame, His Holy Spirit filled me with  profound sense of deep security.
Touchdown Jesus and the goalposts were the same, but in one moment, I was completely changed inwardly. I beheld the kingdom of God. No angels playing harps, visions of flying monkeys or lightning bolts flashing across the sky. Just the Presence of His Spirit, like the wind, within me (Jn.3:3-8). For the first time in my life I felt like I belonged. Destiny replaced chaos. The pain doesn't disappear but understanding builds a champion and master of his own destiny in Christ. 
It was after one Autumn football practice in college when I read His perfect answer to my new found turmoil from dealing with guys, on the football team, who wanted nothing to do with Jesus. He explains "Unless a grain of wheat falls into the earth and dies…" and "the wind blows where you do not know" (Jn.12:24,3:8).
I slowly began to understand that  my ego had to be broken  in order to find a truly new life (Gal.2:20/Lk.9:24).  Sin and ego are the same. If I die, then I shall live eternal life (Rm.6:6). If I yield my sin to Him, eternal life grows within. Just the opposite of what I had always been taught. No persecution or any crazy stuff that opponents may say,  then, now or in the future, can budge me from this indescribable reality of Jesus in Whom I am rooted. I was an orphan who was granted sonship. God loves "a broken and contrite heart" (Ps.51:17).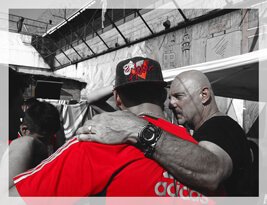 Today, my family of eight adult children, Abraham, Ruth, Joshua, Elizabeth, David and Sarah, my wife Rachel, and I proclaim the living Jesus, to people on the streets, campuses, football games, prisons, in every state and in many countries around the world for the past 40 years. No, I am not a "street preacher". So many wacko's today. I am your brother and servant, not your superior. I am a wicked man. I am simply called to be a son of the Father. My identity is in Him alone.  I have a Master's degree from the largest seminary (Fuller) but my authority is from my obedience not my accomplishments.
I have come to know the joyful laughter of yielding to that verse so long ago so that today I know "… if it dies, it bears much fruit" and "so is a man born of the Spirit" (Jn.12:24,3:8)! I marvel when I consider how God has opened countless doors into the prisons throughout the world. It is my utter joy and privilege to bring the living Jesus to these forgotten and suffering men and women. My family and I are one as Jesus and the Father are one (Jn.17). This is the promise of the true church. It is not a group of people sitting in a building, one hour and one day a week. Jesus is not a 'fat-cat' money monger. 
As a result of working with prisoners, the homeless, the mentally ill and so many on the streets, I have been identified with them and consequently falsely accused, by those who do not know me and use an evil media to slander my character. People unknowingly have accepted the lies of what others have said or written about me and I can do nothing to correct any of it. I forgive my enemies and continue to preach Jesus (Consider the persecutions of Paul (2 Cor. 11).
I really don't care about what others say because life is flashing by and there are so many multitudes in profound need. My life is consumed with caring about them. Not what a few people might say against me. Jesus is coming soon in horrible judgment. All things will be laid bare and His truth will rule. We are not supported by any group or "church". We work common jobs, save up our money, then go forth to preach the gospel. Blessed be His holy Name! If you want to know how to start to heal the inner pain God is waiting. If I can help you… Read More
---
Most Recent Blog Post:
[add_posts show=1 full=true img=false h=1]