Could there be a place, beyond the stars, where there is a real Someone waiting for you to seek His disclosure? Could you be wanted by the God of the universe? He is not ambivalent or neutral in His love for you and does not take into account all your floundering and failures (2 Cor.5:19). Jesus says the Father 'RUNS out to meet you'(Lk.15:20). I don't mean to be offensive, my friend, but the truth is that the way you see yourself right now is not at all the reality of your actual state. You are blinded to His love by your fear, rebellion and ignorance. Right now you have the ability to enact something so powerful it will change this moment, this day and your life.
I dare you. I challenge you. I beg you. Stop. Stop allowing Satan to play your life like a video game. Seize control. Unleash the power of your will against the unseen spirit pressuring you to look away and go on to something else. This is not from God but from a dark world within you. It is not unique to you but common in every man. I entreat you, face this anxiety head on. Stand as a brave soldier against a hostile army (Ps.3:6). The goal?  Your own stillness of heart. Absolute inner silence with one Person on your lips…spoken slowly… deliberately… J e s u s. No little accomplishment. The answers to your present dilemma so close. The vigor to live at hand (Malachi 4:2).  Impose your will.  Refuse to conform to the "personality" dictated by a job and others around you.  You are WANTED.
Be no one's fool my friend. One life. One shot. One Spirit Who can rescue  you…from you.  Hell is not a lame possibility. Escape requires this kind of "work" (Jn.6:29). You don't need to go anywhere to do something. You need to release what you hold so tightly… and what holds you so tightly; yourself.
I write this letter to enter your home and your heart because I love you. I really do. I am not a "preacher". My name is Michael and I am a son. I want so much to share beyond all the generic blab and "Christian" terminology. I want to talk with you, to you, in you, as a friend who cares to sit with you and help you learn how to sense the actual Presence of the living Jesus. This is all that matters. In all of life…this is all that matters. This is not a warm and fuzzy "transcendental nirvana". This is the nitty gritty call of a blood and guts work by Someone Who bore the ultimate brute force. This is reality.  This is freedom, freedom from "the world" is what I write in this blog (Jn.8:32-34).
My family and I arrived here in southern Brazil about three weeks ago. So different. So much need. So much lack of the gospel. We fully rely on the Spirit to empower us with all we so desperately need. Beyond our personal needs are those of the many we face as we "Go…" (Mk.16:15). We also hope,  somehow, to  find a reliable vehicle that is big enough to carry all 8 of us, our equipment, and many supplies, so we can effectively travel, not only throughout Brazil, but Paraguay, Bolivia etc… If anyone would care to help us it would be so great. Just drop a note and we'll let you know how.  It is so humbling and motivating to experience the amazing mercies of the Father for the lost. Just amazing. We feel at times like the bread which He broke then gave to the multitudes.                       
God is opening so many doors into prisons. We are presently at the 2nd worst in Brazil. I was thinking the other day  if you could set a prisoner free from a ten year sentence by serving one day in jail would you do so? What if you could free a thousand prisoners by one week of hard labor? You have no idea who they are or what they would do. Maybe they beat their children or could kill someone. You don't know. Would you sacrifice your time, indeed your very blood, for the benefit of a complete stranger? Paul says maybe someone would sacrifice himself for a good man but "…while we were still sinners… Christ died for the ungodly" (Rm.5:6).
It is easy to think our love is some big deal. Nothing we can ever do will match the sacrificial essence of a 33 yr. old Carpenter sent to earth by His Father. Accurate perspective breeds humility. Jesus suffered, not a month of slave labor, not a few years in prison, not a week without food. He sustained a burning, hot desert for a month without food and water.  His love actually sweat drops of blood. Jesus had no apartment.  He carried no luggage.  He was born in a barn and lived under the stars. He took care of 12 very stupid men. Most of which never understood Him.                            
Beyond this, and so much more, Jesus sacrificed the one thing that meant the most, His divine, intimate communion with His Father. On the cross, His eyes searched the heavens for His eternal Companion. He sacrificed everything He had as the very Son of God.  Jesus bore  the penalty of God's wrath for our sin through a Roman crucifixion.
Understand The Past To Change Your Future.                     
He did all this for every single stranger He never met who would ever walk this earth. The ultimate moment of victory for Jesus was shared with no one on earth. He stood up, out of the ground, alone, in His new resurrection body. He got up from the dead in a remote and obscure desert graveyard, all alone. Imagine the Hollywood depiction of the undead bursting through as the grass and ground are unearthed. Well, this One was not a monster or beast from darkness. Jesus…the Morning Star.                        
All this so we could be freed from "the world", here and now, and from being tormented in hell for eternity. …What is "the world"?In our day to day routine it is easy to gloss over the most mind-blowing reality in the universe; that all men hate God so much, we killed Him; while at the same time He loved us so much, it killed Him.
The greatest danger we face in life is not some scheme by Satan to unknowingly capture our soul. Rather, it is outcome of presumption; the erosion of the fear of God.  "I already know all this" (Jn.8:32).                     
…
What in the world is "The World"  and/rather/or Who In The World Is "The World"?
Paul says he received "something" not of this world (1 Cor.2:12). Maybe he discovered life on another planet. From where else would he have received "something" other than from someplace or someone in this world? My friend, in order to gain God's light you must open, not just your mind, but your heart to another world. Jesus says "My kingdom is not of this world" (Jn.18:36). There is nothing of God in this world. There is nothing of this world in God's world. The two collided in Jesus on Calvary and the Lamb was found dead.                          
My friend, look beyond all the pretty songs, poetic words, and the religious guise of altruism. This world is not full of love but lies.  The heart of the world is not for peace but for self.  It was proven by what it did to 'the Prince of Peace'. So vulnerable. So fragile. So innocent. The world is not some evil substance that fills the concrete mixture of buildings to cause high-level corruption. It is not in some TV or Hollywood image of evil.                      
The world resulted from Adam and Eve eating from the tree of knowledge of good and evil. It scared God to the degree He had to frustrate man's ability to communicate (Gen.11:7). This empire of sin now pulsates in you and I. We are "the world".  We are the hostile entity against God. We are sin and sinners. Jesus says "…the lust of the flesh and the lust of the eyes and the boastful pride of life, is not from the Father, but is from the world." (1 Jn.2:16). The world of sin lurks within. Yet, despite this grievous truth, the Father and the Son have provided the work in which, in the stillness of time and soul, we can discover that we are WANTED.                         
Turning Yourself In – To The Authority
Oh, may we change how we talk of God. Both in our countenance and words, may we speak slowly and not in a pride of knowledge. We did not ascertain these things apart from Him. These are not matters of currency or furniture. We speak of Someone Who dwells on a high and holy place. Do we really know what we are talking about as we are talking about it? Do we really know Whom we are talking about as we are talking about Him? How can we be experts on One we killed?                             
Was there ever one time when you were very wrong about something you felt was very right? If there was one could there be another? This can be prevented by implementing a deliberate attitude of transparency. In the morning, we boast of our knowledge of God. Then later, in the same day, we resent Him for not doing what we think He should. When in fact He was just trying to teach and implant into us the humble attitude He Himself has (Phil.2:4ff). Our only hope is mortification. It produces the one thing God will not despise about us; "a broken and contrite heart" (Ps.51:19). Our only hope to "see" the Most High is to view Him from the lowest point we can put ourselves. Humility and a broken heart leave no trace of presumption. Without this disposition, the gift of sonship remains an abstract doctrine.                           
The obstacles of sin are not merely demonstrated in evil physical acts performed in society. The most hideous is seen in the meticulous nature of our own fascination with ourselves. It is self-deification. Pride is like an apparel for our ego. We are intrigued by our obsession with our world. We alone determine a destiny; sin. We can do what we want, when we want, how we want because we want; sin. Not one person can or will stop you. Free will is a Ft. Knox. Satan has fashioned sin with evil expertise to thoroughly corrupt the soul of man. He whispers the evil thoughts of a billion men from a thousand generations. He knows they work because he has seen them work. Evil works. In fact, it works way better than good because man is adept at evil.  Lies and proud images fall instantly into place as if pieces into an age-old puzzle.  A tiny smirk in one man reflects the unity and conformity with the worldwide conspiracy to defy God and do things your own way. Way to go Adam. Way to go MAN.
The ambiguity of sin is not an accident but an ingenious design. Thus, it leaves no excuse. So let me be clear in stating that behind such theological words as sin, ego, the soul and pride is any laymen's understandable term of selfishness. Downright insensitive to anyone else's needs but your own. Despite the caring-image-crap, you love yourself. Your life is a disaster because you are obsessed with yourself.                        
As unique as you think yourself to be, there are millions who share in the exact same struggles and deception.  We all share the exact same body of sin and thus are all tied together as "the world".                             
Immediately after Adam sinned God asked him (man);     
"Where are you?".
Man was out of place. Out of the place of absolute submission and obedience. This obviously was not a question of physical place because God knew Adam's location. Adam had conspired with Satan to "relocate" himself into a world of his own; justified thoughts, rationalization, self-pity, defiance; "I am my own man". Independence.                       
10,000 years ago Adam introduced us to the thinking process from hell. When Lucifer became Satan, the ultimate ego was born and in a divine microsecond, this archangel of light became dark and found himself cast down to earth. Hell was created as his eternal home of destiny and he busily went to work to subvert man away from the Creator.                         
Adam immediately received access to the most wicked thoughts that you and I are thinking this very moment.  Satan manipulates our feelings and thoughts through the conduit of sin. We conspired with him back then and do so every time we side against faith in Jesus. He has successfully built another variation of hell within our very soul and thus, within every culture of mankind.                           
The common expression "I'm going through hell today" is actually a very accurate statement. I "go through hell" every day. This is why we are vexed by, and don't know how to deal with, ourselves. We do not define ourselves as "the world" because it rubs our self-righteousness the wrong way. We are not like "them". In this very thought, we are exactly "them". We are "caught off guard" by something within us that if we refuse to recognize, we will continue to walk as "the world".                         
Imagine a soldier who parachutes into the heart of enemy territory but doesn't know it. He is shocked by coming into hostile places he thought would be safe. When you don't understand that you don't understand sin, you think you are living beyond it and it is this very thought, of pride, that shows it's "secrecy".  You are trying to resolve something within you that is far beyond you. It is called "the mystery of lawlessness" (2 Thess.2:7). In all his brilliance, Paul could never understand sin (Rm.7:15). Jesus says the essence of sin is "they hated Me without reason" (Jn. 15:25). We live against God, in conspiracy with all men, because insanity is the essence of sin (Ecc.9:3).                          
The body in which you live is completely against you.  It is your "world". It is the "place" out of which you try to manage your life. You have not identified it as your enemy, so you treat as your friend. The very attitudes of hell pulsate in your soul. It is inescapable. I can't stand living with myself. I hate myself (Jn.12:25). I discern and divide between my soul and my God-given regenerate spirit in Christ (Heb.4:12). Salvation doesn't make me jump around like a happy bunny. It sobers me to realize the immense conflict I face and teaches me how to live by faith in the finished work of Jesus.                         
You and I can not fathom what it must have been like for Adam when his blissful God-consciousness was snuffed out by the petty and nit-picky, sick self-consciousness of rebellion and self-obsession. A consequence he never expected. Jesus says Satan is the master at lying (Jn.8:44). Basically everything you think -is a lie. Everything.  A lie is not a singular notion but the end result of thousands of half-truths, exaggerations, misunderstanding, over-reactions, etc. The only way to reach beyond your world of lies is faith and action based on revelation of His Kingdom.                     
Men are terrified to be ALONE with this monster called SELF. We work in the worst prisons in this world and deal with thousands of men whose prison is even worse than the one in which they sleep. Isolation is a form of punishment and torture in prisons and war. Man does not know how to deal with himself. He can not escape his maddening thoughts and feelings. His spirit cries for a love he does not know. He cannot control his impulses because they are fueled by the supernatural powers of Satan, while he is a mere frail human. It is hell within. Literally.                         
Listen to me, my friend, it would be one thing if these things I write were common knowledge. They are not. They are "hidden" from the wise and only revealed to "the babes" (Mt.11:25). Written in the code of sin is the bizarre conspiracy of the world to defy the evil of sin and trivialize it, as though covered by a prayer or feelings of sorrow.                         
You are dealing with things far beyond your capacity to resolve.  The wicked things you see within yourself are not proof of who you are, but of who Satan is. Once you come to Christ, Paul explains sin becomes an isolated entity(Rm.7:20). You have been crucified with Christ, thus, in a sense, you become a third party to what you once were.  Yet in order for this reality to be your reality you must first recognize that you are now but a maggot; worthless as a tumbleweed ( Job 25:6 ). This will bring you to the humility needed for a new creation within. A new world. God's world. Satan tells you that you are alone with your "personality traits" and evil tendencies of sin. So you hide, rationalize and deny them. As if God doesn't see them.                                    
We are trained from birth to go along with this narrative of the world within.They are attitudes coming into us through the pipeline of hell. Hell comes out of us because hell is within us. You must see this. You must define the monster within.  Satan has stolen our greatest gift from God, free will.  God is waiting to empower our will with the unction of His grace through true understanding of how the gospel works. We are seduced by the world into a laziness and comfort, so as not to unearth the power of our free will. So that what we define as "living" is really nothing more than acting.                           
The way OUT of the world
I don't believe "something good is going to happen to me today". I believe something good has already happened for me every day. I don't believe tomorrow is going to be better than today. I  believe what He already did will enable me to face tomorrow. I don't believe I can be all that I can be. I believe I am nothing and anything I become will be produced by His Spirit. If I am nothing, He will be Whom He is in me. If I were to believe any of this "positive thinking" crap, I would fall for the grand old lies within this disgusting body of mine. I would live on the roller coaster of feelings and emotions, not on faith in the past work of Christ.                       
What I think in daily life was determined long ago. There is one past event by which everything I live each day is subject. Wacko thoughts, whether upbeat or downbeat, do not define my disposition. I believe the Word of God provides both the picture I am to paint and the paint with which to paint it. The reality and the power.  I believe in one thing and one thing only; the death and resurrection of Jesus Christ.  Everything I experience is subject to what His work means. My faith in the past renders my present and future already complete. I am a mechanical "robot" programmed to believe Jesus.                          
I don't live according to my world. I live in His. This doesn't mean I don't exist in my world but I understand it. I live by faith, that the living Person of Jesus bore this exact body, mind, soul, feelings and thinking of mine. He took it to the cross to bear the Father's fierce wrath. When He did so, it forever condemned the existence of my body on this earth. I can not, nor will I try to, make myself better. Any finger of effort would be to deny the entire revelation of the Word of God.  "May it never be that I would boast, except in the cross of our Lord Jesus Christ, through which the world has been crucified to me, and I to the world" (Gal.6:14). I was crucified in the past. I died long ago.                        
Thus, nothing I experience in this body of sin and hell determines anything today. Jesus rose up from the death of our world, in a new resurrected Spirit-body. Although I've never seen it or had any "heavenly visitation" where "God told me" anything, I know what I live is real because I live far greater and far beyond my body of flesh. The life I live could not possibly be out of the power of my wickedness. There is no way I could ever live the way I do, if He were not real. I would never choose humiliation over pride. Never. I could never think of the things I think of, never (1Cor.2:9).                          
I don't have wings. I can not float. (Not even in water, LOL.) What I do is to believe beyond myself to what Jesus did 2000 years ago. My spirituality is not determined by what I do or by what happens or doesn't happen in a day or in a situation. It was determined 40 years ago at the University of Notre Dame when I decided to believe and follow Jesus.                          
My life is not determined by "my world" but by the teachings of Jesus, as He defines reality. No matter how real my thoughts and feelings may seem and what they may tell me, when I believe in the light from God's Word, I am lifted by faith into another realm.  What He has long ago spoken instantly pushes all the buttons of reality within me.                             
The war of the worlds was fought within the human body and has already been won by Jesus. Therefore, I live as a victor, not as a victim. I choose not to whine and moan but rejoice that my name is written in the Book of Life. I triumph over, rather than succumb to, the world of hell within. When I fall,  I instantly rise because, in His world, I have never fallen (1 Jn.3:9). My sin is as the blink of an eye, because such confidence in His finished work is the greatest praise I can offer. My Father sees me under the blood of His Son.                        
THE TERM
When Jesus arrived on earth, He took the idea of  "the world", out of it's positive context, and redefined it in His light, as inseparable from condemnation, judgment and ultimately hell.  What had always been used as a generic term referring to the great accomplishments of men, was now exposed as the most evil hostile entity against God.       
In speaking of the world as the place of all men, He says "Light has come into the world and men love darkness" (Jn.3:19) and  "The world hates Me because I testify that it's deeds are evil" (Jn.7:7).  He is talking about us, mankind. In our world of hell, we hate God, because His light exposes us as so far from Him. We are faced with our free will to choose. Believe or pretend.                          
In the world of our sin, we feel resentment towards God for what we think we deserve. We are frustrated in our putrid, shallow existence. Jesus confronted the conscience of the world. His Supreme Authority over this world resonated, and resonates, within the conscience of our own individual world.  In Jesus, an entirely new dimension had dawned upon the world, with the truth that  "The Norm" of man's existence (our individual existence) is absolutely abnormal to God. Everything we do, and anything we do, in this world is not only absolutely vain but wicked. There is no meaning, whatsoever, in any facet of this world. It is only to be condemned. Everything about men is essentially bizarre.                                   
The transformation of His light is our only hope of becoming "normal". He is our only hope to find the destiny of redemption. The world of sin is in our blood, atoms and molecules. It is a smirk with no explanation. It is the vain gazing in a mirror. It is as slight as a twitch of lust.  It is the anger or jealousy right below the surface of our disguised pretense. It is in the gluttony we call overeating. It is the source and strength of every self-serving tendency. It killed Jesus 2000 years ago and resents Him in anyone in whom He lives today.                     
A homely looking Carpenter walked our streets and explained how His mere presence on earth meant  "judgment is upon the world….now the ruler of the world has been judged " (Jn.12:31,16:8/1 Jn.5:19).                                  
In a short three year period, Jesus designated all the realities and terms of our world as of no comparison to the One for Whom He stood. Satan immediately came out of hiding and, with all the powers of hell, manipulated the world to kill Jesus for giving us this revelation.                                    
The two worlds collided in a place where two pieces of wood made a cross. One act of One Son forever altered the accountability of all men to reject the world. "If I be lifted up…" (Jn.12:32). Jesus says their accountability is now before them. Jesus explained that the body of God upon a cross would summon all men to this inescapable accountability in their conscience. Each man's response to His act would define their eternity.                                
"If I had not come and spoken to them (about the world), they would not have sin, but now they have no excuse for their sin (to live for the world). He who hates Me hates My Father also. If I had not done among them the works which no one else did, they would not have sin; but now they have both seen and hated Me and My Father as well. But they have done this to fulfill the word that is written in their Law, ' They hated ME without A cause." (Jn.15:18-25).                                  
I was driving up to Central Mich. University for a summer football test. I had just met Jesus, a month earlier, while at a catholic charismatic conference at the University of Notre Dame. I was contemplating the deep things of becoming a disciple. I could have never imagined back then that one day my six children, Rachel and I would be standing before thousands for Jesus.          
All that was on my mind was that I was about to see my old buddies who knew me only as "the crazy War" (A wild 'party-down' dude). How would they respond to my new-found decision to follow Jesus? I remember the exact moment of pulling into the parking space outside the stadium housing.                                 
I stepped outside of my dad's car and, as I saw my buddies approach, I simultaneously realized that I had stepped into a world of complete hostility and opposition. Little did I know of what I had done, in giving my life to Jesus."If the world hates you, you know that – It Has Hated Me – before it hated you. If you were of the world, the world would love its own; but because you are not of the world, but I chose you out of the world, because of this the world hates you (Jn.12:31,15:18ff). It wasn't me they were hating. It was Jesus in my world.                              
There were no sirens, alarms or bells sounding over what was happening. I was just an ordinary man who had been called OUT of the world. It surely hit me hard. "They" came up laughing, swearing and joking expecting me to reciprocate their insanity. While I saw myself in each of them, I was no longer "them". I knew exactly what they were thinking, because I shared in their world. I was "of" the world but now I was called "OUT of" the world.   I was "born again" and as Jesus promises I could now "see" the kingdom of God (Jn. 3:3).            
"Remember the word that I said to you, ' A slave is not greater than his master. ' If they (the world) persecuted Me, they will also persecute you; if they kept My word, they will keep yours also. (Jesus attaches no names, countries or skin color to "them". "They" are we. Unless, you are called OUT of them. YOU are either "them" or hated by "them".)  "But all these things they will do to you for My name's sake, because they do not know the One who sent Me." (Jn.15:20).                     
All the generations of man, though they had never met together, responded to me out of the same conspiracy to hate God "without a reason"  (Jn.15:25). My naive mind was stunned. It was "without reason".  The world within me was devastated, but who I had now become was secure. I felt His pain and I rejoiced that it was now mine. It all meant so much. It meant that I was no longer of the world. I had received the "something" of which Paul spoke that was not of the spirit of this world. I was actually, not theoretically, in Christ. Just a few months earlier I was "the life of the party". Now, I was the life of the Suffering Servant.                     
"Therefore, come out from their midst and be separate… (isolation and solitude) And I will welcome you. (The magnificent Friend is the alternative to "their" "friendship" (Jn.15:15) And I will be a Father to you, (The vague usage of "God" becomes "Father") And you shall be sons and daughters to Me," (2 Cor.6:14ff).
Our family: (from Right to left): Joshua – Ruth – Michael -Abraham – Rachel – David – Elizabeth – Sarah
Instantly all the "they's" and "them's" of whom Jesus warned stood before me.  It could have been any college campus, city, state or country. And since then, it has been thousands and millions from over 50 countries, cities and nationalities all over the world.                        
**This might be a good place to take a break and then come back and keep reading. It's a lot to take in, but it is well worth the time and concentration. – Joshua
The "Place"
Jesus says "In the world you will have tribulation but be of good courage I have overcome the world" (Jn. 16:33). Jesus promised "I go to prepare a place for you" (Jn.14:2). This "place" is the abode I express in these pages. Jesus promises "My Father and I will come to you and create an abode within you" (Jn.14:23).. Beyond the soul, the self, the world, the ego is the precious  heart of Jesus. Catholics call it  "the sacred heart of Jesus". In response to the sinister choice of Adam, Jesus, as the second Adam, has a heart of selfless love for the Father. He offers this to us by faith.                     
When I met Jesus in the football stadium of Notre Dame, the first thing I did afterwards was to go to a place on campus called The Grotto. I lit a candle of thanksgiving and life commitment.  Prayer is a process of individual calculation to deliberately articulate to the unseen Father certain words about certain things. It is not repeating a "sinner's prayer" or anything written in a book by someone else. It is the individual expression born out of the heart of a son or daughter crying "Abba. Daddy" (Gal.4:6). Yet, prayer is not just that. There is a much deeper prayer from a "grotto", an "abode" within, yet beyond this world. This was the entire purpose of Jesus. To create a place for us to fellowship with His Father.                     
As a catholic, I lit a candle as a prayer many times. It took years for God to break through my thick skull, so that I could understand that such an outward ritual was something I could do within. I could become a flame burning in my love for Jesus, despite my world of sin and death. This inner communion is as of  "tongues" to the Son, to the Father. It is the mature response of surrender to Christ beyond my suffering. It is to "connect" at every, and in every, moment, that Jesus might be the beginning and the end of all that I do. It is realizing and rejoicing in His accomplishment of working His will into mine. Paul says to pray "without ceasing" (1 Thes.5:17/Rm.8:26). This is physiologically impossible with audible words. Clearly He is talking about a supernatural operation, because you have to care on the affairs of everyday human existence.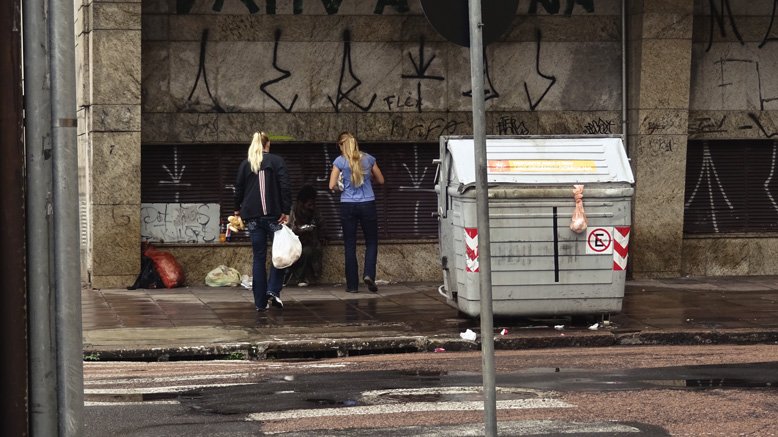 The sole purpose of prayer is not the happiness of your world.  No matter how the world accuses Him, the Father is not compelled to prove His love. He has already done everything HE can do. God met extreme hatred with extreme love. The world has no excuse. You have no excuse.                                       
Prayer is intended to build communion with the Father. This is your greatest need. Move your tongue and your mind will change and you will "see" things differently. This is your only need. Once you know the Father, you have everything. He calls you OUT of your world into eternal life here and now. Whatever thing you may be praying for, will come and go, but if you could draw moments of eternity using your moments in time, imagine the joy.                                  
The Titanic was a gargantuan ship. Imagine what kind of machine would be required to raise it miles off the ocean floor. This is a small, insufficient picture of how our will and reason remain dormant. The weight of the world upon us is so horrible. It pressures us to fear being rejected by others, to conform, to give way to sin, to give up "What's the use?", to be full of anxiety and stress. The world is not ONE reason for despair. It is THE reason for our "hell". So once we understand it, we can forget it and start doing what Jesus says, "Go into all the world" (Mt.28:19). We are made in the very image of God Almighty, with tremendous capacity to be creative, strong and loving. To bring our light of the gospel to those who have no light. We can sustain enormous opposition and accomplish great things in Jesus' Name.                                                
To the degree to which we are willing to deal with the truth is the degree to which God can help us, because He says "I will ask the Father, and He will give you the Helper… the Spirit of truth, whom the world cannot receive" (Jn.14:16) .                               
Most people think if they want help, they have to pray for it. They wait and wait and wait for that "something" that never comes. They don't think to think that it has already come. They must simply believe in the past.  Or people think they have to change this and that and do a lot of other things BEFORE they get serious. These are exactly the lies of Satan to prevent immediate repentance. The Holy Spirit is not earned by prayer or change of lifestyle. No one can draw a picture of faith. It appears at a moment of action. It automatically triggers grace. It requires no journey of self-purification or time, not a second or a month, for you to think about it or 'get things right'. Everything is done.                                  
To know the character of the Father's love is the supernatural lifting "machine". God does not deal with you according to your sin but according to His vast accomplishment in Christ.  He rejoices "It is finished" (2 Cor.5:19). What if the Father's response to your prayers is at a far deeper level than you are willing to see?                               
God's compassion will never be triggered by your self-pity. God does not feel sorry for us, in our rebellious world of sin. Our father Adam didn't reject God by accident or mistake. So his code of defiance is reflected in our nature of response to God. We are defiant. Self-pity is not innocent. It is defiance to the work of Jesus. Sin is a calculated choice against conscience, revelation and free will. It is the choice to reject what is right and choose evil (Jn.5:20).                            
God's compassion is based on His hope that if any man will see His glory, and grasp what He did, that man will conform, submit, obey and change. When Jesus taught the apostles to pray, He was not giving them a formula of prayer. Jesus does not say this is "what" to pray, but this is how and the way to pray (Mt.6:9). Jesus was giving men a divine perspective. We need to see things as God sees them. Beyond our minuscule world of selfishness is reality and truth as God reveals.  The reality of our situation does not exist within us, or around us, but beyond us.                                                    
It is not what we think or see that should shape our desires and prayer, but rather what Jesus reveals. We are in a tragic state about to fall into eternal hell fire. The worst thing we can do is to "pray" contrary to the will of God. Behold God as Father, with the perspective of HIS realities.                                     
This world is not waiting for condemnation. It is condemned. We need to get out of it and it is not going to happen if we are fixed on praying self-seeking prayers that only further breed our life of self-centered "happiness".                             
The purpose of your struggles is to solidify your resolve. To prove what, rather Whom, you truly desire. I have talked with many people who cry over their plight. I understand the sorrows we must bear. It can be a good thing to cry like a child. I have done so in times of unbearable sadness.  But in our crying, we must cry out to Him and not in a pouting tone of pity over ourselves.                                     
We must stop the  "praying" for what you think you need and decide to respond to how God has already met your needs. The frequencies of a right spirit are those joined with the song of the Lamb. Everything, everything, everything is about eternal life.                              
THE POWER FOR SUCCESS
"Having begun by the Spirit" (Gal.3:1ff).
The secret power for the success of any endeavor is your degree of will.
The formula for frustration is to follow Jesus without Jesus. Knowledge has no "living" power.                     
Knowledge has no voice of comfort and counsel. It is theory. Salvation can only begin when begun by the Person of the Holy Spirit; "having begun by the Spirit". If it is God Who starts something, then it is God Who will complete it. Salvation is not a work you can begin, because it is not a work you can finish  (Phil.1:6, 2:13/Jn.6:44-45). If it does not begin "by the Spirit", it will never result in the Spirit. If you do not begin by the Spirit you will never learn how "It is finished" before you began (Jn.19:30/Rm.8:13/Gal.3:3).                     
The only way to do something that YOU can't do is to be moved by something greater than you. Faith is understanding that you will never understand. Faith requires a nothing that is quite something. It is not just beyond you. It is in spite of you.  It is the confident surrender to a promised outcome.                     
So often the world responds to the gospel as something so complicated they just can't understand it. I have known people who go on for years and years without repentance because, they say, they just don't get it. "How can I become new through an event in past history?" To me it is all so simple.  Beauty is in the eye of the beholder.  Everyone chooses their response. We are not a plant.  We are made in the image of God with logic, reason, love, truth, kindness, etc. God did not leave us to function with instincts as an animal but with everything we need to understand salvation.                      
The world uses it's capacity to explain highly complex things like atomic fission as a process of splitting the nucleus of the atom. The result is a transmutation into two particles. Big words but not that complicated.    A man can accept the complex ideas of nuclear fission, but say salvation doesn't make sense. Jesus, as the second Adam, interposes His risen Spirit upon our fallen adamic soul to generate a life giving spirit (1Cor.15:45). Simple. So the issue is not a lack of intelligence but a desire to understand. Regeneration causes the "transmutation" of two entities; the soul and the spirit (Romans 7/Heb.4:12/1 Cor.15:45/Jn.4:24/Jn.3:3). Simple.                         
Scientists are all "ga-ga, goo-goo" over  "the God particle" (Higgs Boson); an inexplicable explosion of undefinable, insurmountable energy which gives mass to matter. So what do you do with the history of one Man who rose up from being dead and offers eternal life? My friend, this is all about eternal life. When I decided to seek Jesus I interpreted my natural circumstances of isolation as the chance to repent. Interpret your circumstances as your chance to change.                       
I remember when my life had become one huge struggle. I  wondered if God existed. Why didn't He help me? I felt so alone. Could I ever escape the burden of my own life. Slowly, the composition of my free will began to materialize.  I could DO SOMETHING about my life. What I DID mattered. My desire grew. Little did I ever expect that as the Father raised His Son so was He about to use this same power to raise my  "Titanic".  When you are passive and lethargic God seems distant. Faith is action. It is the only road on which God travels.                       
I wondered if there was like one big thought about God that could help me figure it all out. Something where I did not need a spiritual experience or to see a vision of angels. Was there something very obvious and sure that could be known about God if I were to believe Him? He was just like so distant. Then one day I remember reading Exodus 34:6.                                  
"And God passed in front of Moses, proclaiming, "The Lord, the Lord, the compassionate and gracious God, slow to anger, abounding in love and faithfulness, maintaining love to thousands, and forgiving wickedness, rebellion and sin." Moses had no clue to God and God gave him the ultimate revelation.                                 
I  chose to believe this. This answers my questions. God is good. The Shepherd is good. I CAN trust Him with my life. He has no hidden agenda of hurting me.                               
Who are YOU?
Salvation does not occur by God waving a "magic wand" over a man. It is an engagement in a two-way relationship or it is nothing.  Paul says "work out your salvation in fear and trembling because it is God Who is at work in you" (Phil.2:12). He has heard your prayers and tried to use your struggles to draw you to Himself. It is you who are caught up in the world.                                
The "Christians" of today think that God should feel for them if they don't have what they want.  They want the Father to make their own life better according to what they say they need. This, my friend, is crazy lazy. Our problem in everything we deal with IS NOT what we think it is.  It is our selfish world within. " But your sins have made a separation between you and your God…."(Is.59:2). Jesus says to deny yourself and care about the needs of others. This is His answer.                                 
Sin has rendered us as sleeping giants. We are deceived to our own accountability. Unless we awaken our potential, we will go to the grave like billions who have never tapped the latent power of the will. They never engaged the Father.                                 
What if God allows you to think you are left alone in your suffering for a supreme reason? What if dealing with this thinking brings you to a realization you need? You need to see the person who lies within you rather than the person you CLAIM to be. It really means nothing to say you love God and will do this and that, when you live in a nice, comfortable world. Your inner true person goes unchallenged.                                
God knew exactly what Abraham would do when He told him to sacrifice Isaac. It was Abraham who did not yet know himself. Abraham came to see himself only when he faced his suffering. He was left alone to see what he really wanted in life.                              
The silence of God can seem excruciating, until you gain perspective on His revelation. His goal is to save you, no matter what. Your life here and now is the only thing God has to test every fiber that makes you, you. Will you rise up in individual faith in God? Will you insist that the death of Jesus is not enough? That you deserve "something" from this world?                     
When I gave my life to Jesus, I told God that if this commitment does not involve any spiritual experience, I will just follow Jesus out of my own strength. I determined He is worthy. I've never seen any visions of angels. Never been "slain in the Spirit". Just get up every morning and love the Lord. Never could I have imagined that out of my seed could grow a tree and a place for the birds to sing (Matt. 13:32/Jn.12:25). It is nothing less than marvelous.                       
Yet times without number I have wondered "Where are You, Oh Father? Why won't you answer me?".  In the silence and obscurity of severe storms the little seed is sending massive roots into the soil. Such is the outcome of relationship.  There are times when I am desperate in begging God to do something, but absolutely nothing seems to happen.   It is at these times when my roots keep me secure in faith.                             
This one issue of "unanswered prayer"  is the main reason the world answers "Where are you, Adam?" with  "Where are YOU, God?".                                 
Our world questions His love and existence, because He does not do what we think He should. The natural outcome of "unanswered prayer" is an atrophy of "faith" into despondency. We lapse into self-pity. What does anything matter if God doesn't hear you? You are all alone. Our world says "God doesn't care". This is the same narrative from hell. Few will ever admit it, but gradually this "praying" undermines sincerity and turns a "Christian" life into a facade. On the outside you maintain a "confession", but inside you're going through hell.                     
A guy we know from Argentina typifies the world. He told us how his little girl was sick. He prayed and prayed for her to get better, but she did not. He gave up on God and is now filled with bitterness, as he blames God.  God was trying to draw this man to Himself in testing the man's character. If he would have ever conceded to God, God would have given Him an understanding that he never imagined.                                  
This is not praying to GOD. This is merely expressing what we want to make our world happy. If we don't get it, then we get angry. God is not a man who bases His response to us on our reasoning (Is.55:9ff/Rm.8:7). Satan wants nothing more than to advance the conspiracy to accuse and defy the Father. He has established this narrative of "prayer" in our world.                                                         
God is not a Genie in a bottle. He is not a divine "Make-a-wish" foundation. God is a Father. He is not obligated to us because our thinking tells us so. Jesus used the expression "Father" 184 times. The Father is so extraordinary, that just the memory of Him carried Jesus through His agonizing visit to earth(Jn. 13:3).  Jesus was enthralled with the Father; "Now, Father, glorify Me together with Yourself, with the glory which I had with You before the world was" (Jn.17:5).  Our prayer must be rooted in a faith that the Father is Who Jesus revealed Him to be.
Existential suffering scrubs us down to the bone. King David says God searches our heart (Ps.139:23/Prov.20:30). One time, when we were on a boat, I had to swim down to set the anchor. It concerned me how this relatively small thing was our security in a storm. Tiny unseen motives are the anchor of our life. Each time you suffer, you swim down to see your anchor. It determines how you sleep at night.                
Paul explained exactly what motivated him (motives). He was not trying to show everyone that he was a good Christian. He said:                     
 "I count all things to be loss in view of the surpassing value of knowing (not "accepting") Christ Jesus my Lord, for whom I have suffered the loss of all things, and count them but rubbish so that (1)I may gain Christ, and (2) I may be found in Him, not having a righteousness of my own derived from the Law, but that which is through faith in Christ, the righteousness which comes from God on the basis of faith, that  (3)I may know Him  and the power of His resurrection and the fellowship of His sufferings, being conformed to His death; (These 3 things required) in order that (4) I may attain to the resurrection from the dead". (Phil.3:7ff).                     
Change may sound like a gargantuan work, but in one quick tick of time Paul left the world. The distance between the saddle and the ground upon which he fell was maybe five feet. In this small space, Paul was raised from the deep. He had no time to pray, get rid of any sin, clean up his act, do any "good deeds",  obey any Laws or attend any Sunday service.                     
Such a salvation would not register with the evangelicals, but all that God wanted from Paul was Paul. Paul saw himself. All he ever really wanted in life was God. This is what God wants you to see, or not see, in His "answer" to your "prayers". He wants you to see who you are, so that you can do what you want. Paul stood up from the ground but never again stood up for the world.                     
Could it be possible that you do not know the very thing; the very One Who provides the very thing you do not know  you are seeking? What do you do when you have absolutely nothing and God seems far away? Whatever you do, this is who you are.. this is what you truly want.                     
Louis Armstrong wrote the famous song "What A Wonderful World".  Back in the 80's everyone considered the song "We Are The World" a great unifying force. The term "the world" is not harmless. It slaughtered the Son, devastated the Father and necessitated the creation of hell. To understand the unseen powers is to bring clarity into your life.                   
Jesus translated every word of every language into one word; SIN. Every word and every action by every man, every day, everywhere is SIN. After the fall from his horse, Paul never again sought place in the world; "all things are but rubbish".  He never sought it's acceptance. Never identified with it's definitions of morality or thinking of righteousness. Paul lived outside himself. He lived in Christ (Gal.2:2).                     
Beyond all our sin is the debilitating loneliness you and I feel in our bed at night, as though it were some physical pain. It is rooted in our adamic nature incurred by the sin of Adam. This one feeling of isolation is the single most reason for all other sin. The depths of our heart cries out 24/7 for this one thing Adam lost in the fall, which we desperately need but can never supply; the love of an intimately personal Father. The love of our Creator God is waiting in Jesus to bring you into His family, in His love to be reconciled back to His Father. To this my friend I tell again that you are WANTED.                                          
Jn.17:6ff-" I have manifested Your name to the men whom You gave Me out of the world; they were Yours and You gave them to Me, and they have kept Your word. Now they have come to know that everything You have given Me is from You; for the words which You gave Me I have given to them; and they received them and truly understood that I came forth from You, and they believed that You sent Me. I ask on their behalf; I do not ask on behalf of the world, but of those whom You have given Me; for they are Yours; and all things that are Mine are Yours, and Yours are Mine; and I have been glorified in them. I am no longer in the world (He was standing on earth.); and yet they themselves are in the world…".